After the successful installation of a bar-code Access Control system at Powder Mills lake in Surrey the Albury Estate Fisheries wanted to extent the system to include Syon Park, the seconds of the five Albury Estate Lakes.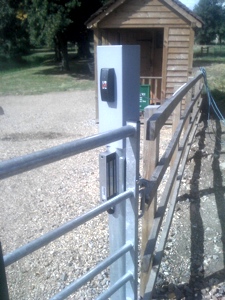 This is a pedestrian only gate that permits members of the fly fishing club to enter the Syon Lake. The lake is particularly popular with anglers as it one of the few location to offer fly fishing in the London area. On a summer weekend the lake can see over 100 anglers, who don't want to be disturbed by non-members accessing the lake area. The gate system is designed to permit members access and restrict the general public from entering the lake.
The system shares the member's database from the existing Access Control system in use at Powder Mills. The central server is located in the Albury Estate Office in Albury. The challenge for SCS was to connect the Syon gate with the Albury server when Syon gate had no Internet connection. Syon does have good 3G coverage and this was the selected connection method to link the gate with Albury.
A specialised 3G router was sourced to provide an IP connection over the public Internet to link the Albury Server with the Syon Access Control. While the gate system stores all membership data locally it does communicate with Albury whenever the gate is opened and the Albury server alerts the fisheries bailiff staff that a particular angler has entered the lake.
The Access Control system is now live and the Estate plan to deploy additional control units at the other three lakes.